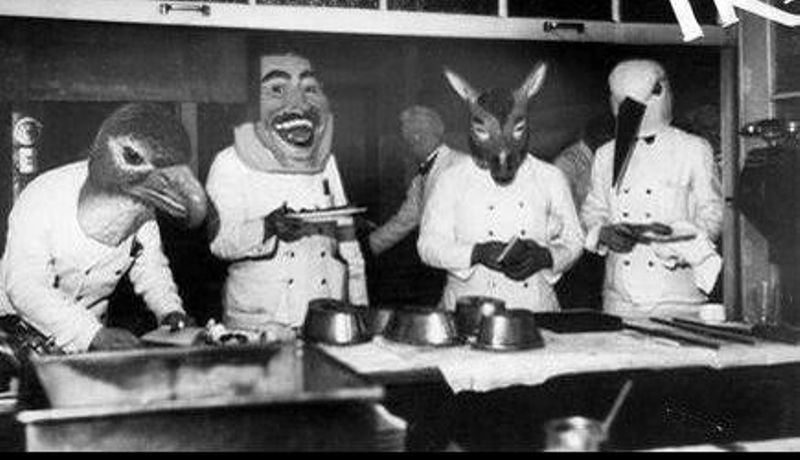 The Ben Nadel Mask of SotR13
Eventually I'll write up a summary post on my thoughts of Scotch on the Rocks 2013, but until then I wanted to share this magical moment. It all began when I realised that Ben Nadel wouldn't be making an appearance at SotR13. If you don't know who he is, apart from being an awesome developer and prolific blogger, he has a tradition of taking photos with people and doing a thumbs up pose. These pictures are then posted as part of his blog header, randomly being displayed.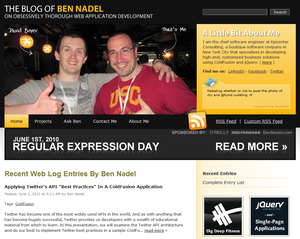 No Ben for 2013 meant no photo opportunities! I did jokingly suggest a cardboard cut out but it didn't get picked up on. So, come the final day before SotR13, I quickly found a decent picture of Ben facing straight forward and printed it out. Then during my 8 hour train journey to Edinburgh, I carefully crafted the mask out of a "Contractor" neck lanyard loop, some thin cardboard and the excess sticky paper from around some Moo CFTracker stickers I had.
I honestly had no idea how well people would take this daft idea as I usually only meet them at the conferences and sometimes haven't had much chance to socialise. Gave Ben Nadel the heads up (accidental pun!) on the mask, just to be sure he was okay with things and then waited for a good time to strike…
First strike
That moment was near the end of the first day. With some time in hand before Bruce Lawson's session started, I sat down behind James Allen (big Ben Nadel fan :P), put the mask on and tapped him on the shoulder. Awesome reaction and it lead to the first picture…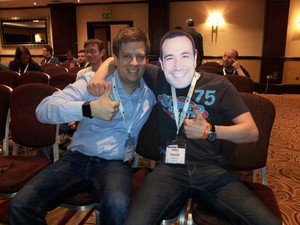 Then quickly, before it made it up on Twitter, Guust and I went into the FuzzyOrange room. Guust, camera ready, walked up to Andy Allan and started saying that he thought Ben Nadel couldn't make it. My cue to sneak up and grab Andy for a classic Ben Nadel pose…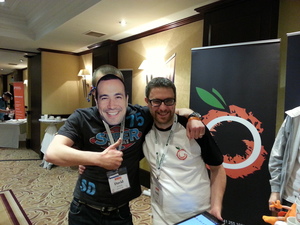 The free bar
I'd have been bonkers not to take the mask to the free bar. So in I strolled, focusing on grabbing a drink and finding people I know. After some fooling around between ourselves, things had to escalate ;) Just as the free bar was closing, Matt Gifford announced a special guest who'd be willing to pose for pictures, Ben Nadel (myself behind the mask).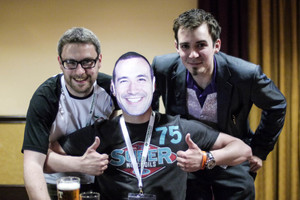 It was such a good laugh. Loads of people came up for a photo, with the fantastic James Allen as official "Not Ben" photographer. From there we progress to the main hotel bar, fooling around with the mask, others having a go at wearing it and posing with more people. You can see all the pictures in the:
The Wacky Adventures of Ben Nadel
The final night
The end of the last day of SotR13. Some people had left but there were still quite a few of us staying for another night. Yet more opportunities to use the Not Ben Nadel Mask. It all started out similar to the previous night, more pictures but mostly with anyone we missed. Then a totally random moment occurred that made us step everything up a gear. A father and his little boy came over, with the Dad asking if his boy could try on the mask, so we let him…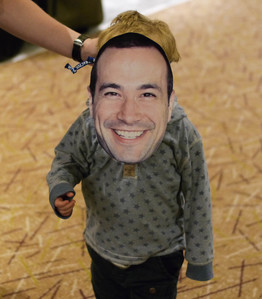 The Mum of the family kept asking "But who is it?…" with the Dad appearing to not be worried. At this point I was laughing so much I was crying and had to steal away the camera to show some of the others. This spurred us on to photo bombing of the mask into pictures (foreground and far background), recreating the lift scene from the Gangnam Style music video and taking to the street for some extra madness.
Shake
It came to a point where James and myself were drained from the whole experience. Laughed out, running low on inspiration and starting to run out of time. We kept talking about trying a Harlem Shake but didn't think we could convince enough people as it'd need a decent section of the bar. In the end it started to come together. Opening sequence cast:
Closing shake cast then included the additions of:
All together producing one incredible Scotch on the Rocks 2013 final moment…
Update
Eventually this was followed up with this lovely video :)